SEO ranking factors in 2022
(that no one talks about)

If you're reading this, you're probably already aware of what Google considers to be the most important ranking factors, such as content, backlinks, alt text, and other well-known SEO factors. However, Google updates its algorithms on a regular basis, and these updates are affecting many highly ranked websites because Google is no longer giving those factors the same weight as before; instead, the main focus is being shifted towards a satisfying user's experience
But how do you incorporate a good user's experience into your SEO plans and strategies?
Here are some of the main points that Google considers affecting the overall user's experience
1-Page speed:
Website speed is one of the primary elements that Google considers when ranking a website. In fact, we as web users have been known to abandon a website because it took too long to load, and I bet most of you reading this can relate to this.
How to improve your page speed?
Optimize images on your website:
Try uploading pictures with a smaller file size or minimize the use of animated pictures as those usually take longer time to load.
If you are using WordPress or similar CMS system, you could use some plugins that help with image optimization.
Minify CSS files on your website.
Choose the right theme for your website
(For CMS users) don't use too many plugins
Choose a powerful Host provider.
If you are using WordPress, you can use some plugins that help optimizing your website's speed just like (Asset clean up, W3 cache)
 2- Core web vitals
The core web vitals are probably the first things that search engines (particularly Google) analyze when deciding which websites should be ranked higher and which should not. The core web vitals are broken down into three key indicators that search engines consider.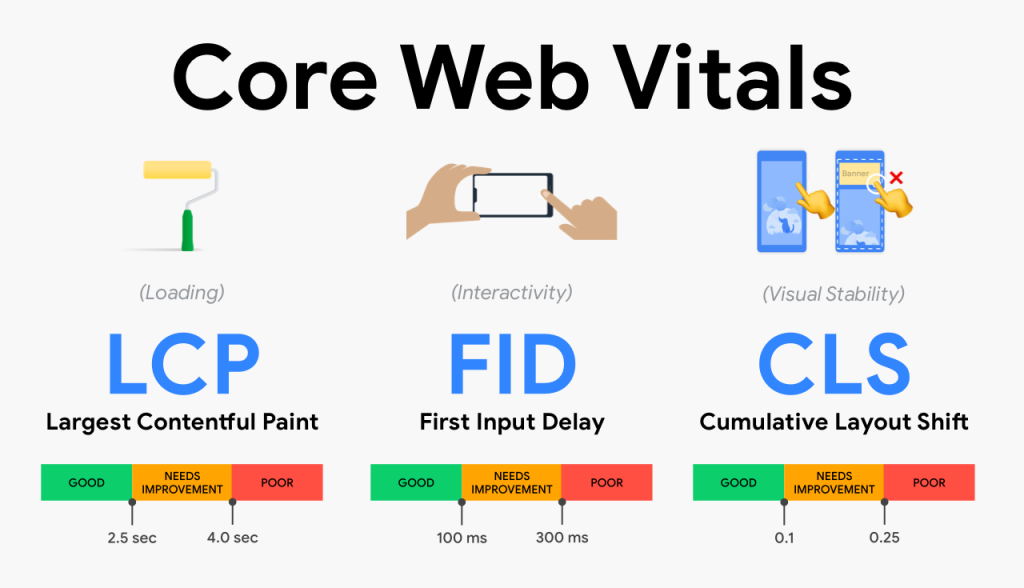 LCP (Largest contentful paint)
Largest contentful paint in plain English is the metric that measures the loading time of the largest content areas on the screen (mostly on the home page of your website) which includes
 Banners
Video thumbnails
Large headings
etc.
First input delay is a performance metric that measures the time between a user's input on a website and the website's processing of that input
(Clicking on a form link, a book now button, etc.)
 which is usually measured in milliseconds. This in an essential factor to keep in mind when developing your website or improving it as a longer FID timing could cause a high bounce rate off your website.
CLS (cumulative layout shift)     
Have you ever been exploring a web page and the page suddenly moves or you were trying to click on a link and you accidently clicked somewhere else due to a shift in the content of that web page?
That's exactly what Cumulative layout shift is and this is considered to be one most annoying things that web users could deal with. Google did a great job when explaining what CLS is with this following video
How can you measure the performance of your core web vitals?
The best way to Measure your Core web vitals performance is by Linking your website to the "Google search console" which shows exactly what needs to be improved along with tips on how to improve it
3-The understanding of the search intent
Understanding the search intent is one of the most underrated analyses that so many people ignore when optimizing their website for SEO. Especially that it has been a critical ranking factor for Google, especially after their "Hummingbird" update, which analysis which websites are fulfilling the search intent and then ranking them accordingly.
Search intent comes in 4 main categories:
Informational intent
As the name suggests, the informational intent is when people search for information (recipes, courses, support forums, etc.)
That's why you should be able to optimize your sites keywords properly especially if you are providing information for your audience.
Navigational intent is when people search for you website by name and this is especially important if your business is well know or you have a wide audience
For example when people search "Amazon" on google they are most likely looking to buy something from Amazon and are not looking for the Amazon river that's why the first search results are navigating to "Amazon's" website.
Transactional intent is when people are looking to purchase something or looking for a great deal online, and that is very important especially if you are running an E-commerce store.
For example, if you a store selling mobile phones, you should optimize your website for keywords like: iphone13 for sale, mobile phone accessories, etc.) as when people search for "iPhone13 for sale" they are most likely looking for a purchase not information about iPhones.
4- commercial
Users with commercial intent are usually looking for a purchase but they want to make the right decision, so their search keywords could be: "the best touch laptop" or "Hp laptops vs Dell laptops" therefore, having a well optimized transactional and commercial keywords could be very beneficial for an E-commerce store.
 you must keep in mind the main keywords used in different search intents like:
 buy


 

Deal


 

 sale


 

 offer


 

 specific product names


 

The best


 

 How to
Etc.
As these are some of the most commonly used keywords that google indicates to show the right search results for the given search term.
Conclusion:
Having an overall satisfying user's journey is the most important SEO tactic right now, put yourself in the shoes of your site's visitors and ask yourself, is this website fulfilling my search intent and providing me with the information I was looking for?  Try to get feedback from others and keep on improving and eventually you start noticing the increase of inquiries or the views of your blogs.